1

The riddle
1.1

The power of a big lie
Quote
... the broad mass of a people ... will more easily fall victim to a big lie than to a small one

1.2

The third tower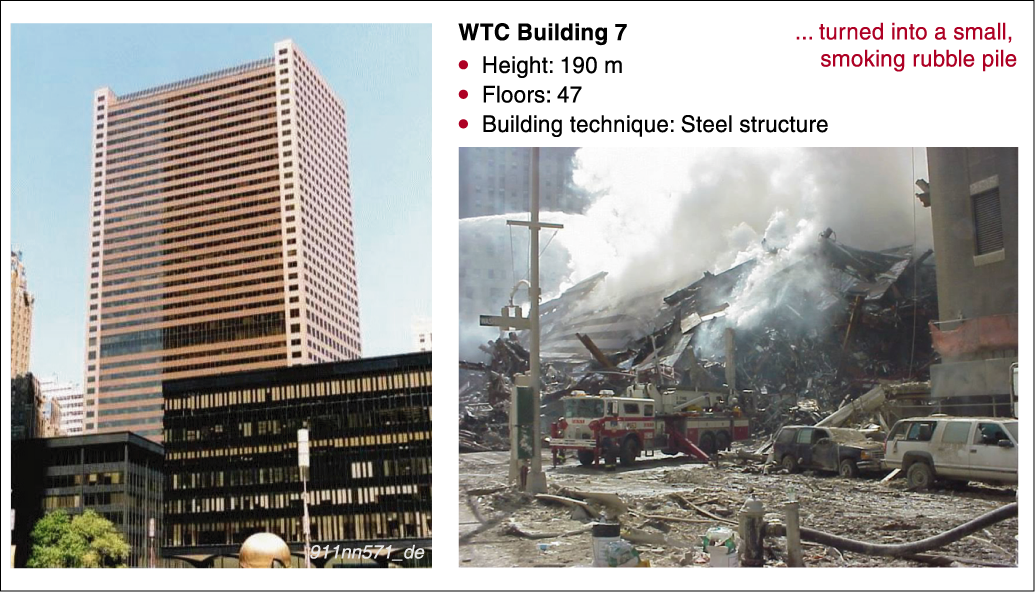 1.2.1

The NIST's point of view
Video clipping from 'Shyam Sunder comment WTC 7 collapse model '
Shyam Sunder; head of the NIST investigation panel
Our take a message today is that the reason for the collapse of World Trade Center 7 is no longer a mystery. World Trade Center 7 collapsed because of fires fueled by office furniture.

It did not collapse due to explosives or from fuel oil fires.
1.2.2

911A&E's point of view
Video clipping from 'World Trade Center Building 7 Evaluation Introduction'
Dr. J. Leroy Hulsey
Our goal is to figure out why it collapsed late in the afternoon on September 11th, 2001 even though is was not hit by an airplane.
1.2.3

Views of direct eye-witnesses / commentators
Video clipping from 'WTC7 collapse – 23 angles'
Brian Williams, News Anchor MSNBC
And watching all day, this is like watching the collapse of an active volcano.

And the dust from it is not unlike that from a volcano...